The more sand has escaped from the hourglass of our life, the clearer we should see through it. And realize it's too late to enjoy life because you run out of time, and realize that it's too late to enjoy life because you run out of time. Never fail to enjoy and discover beyond your knowledge for life has a lot to offer you just have to open the right window and jump! Don't let the sand escape, hold in your hands for this place can give you a lot of sand the Mui Ne Beach Sand dunes. This sand dunes is famous for having its enormous red and white sand dunes. The white sand is for surely impressive and beautiful the near-constant oceanic winds sculpting the sands into wonderful Saharaesque formations. You will be impress how does sunrise and sunset occur in this place that is one of the photographer's goals to capture one piece of beauty.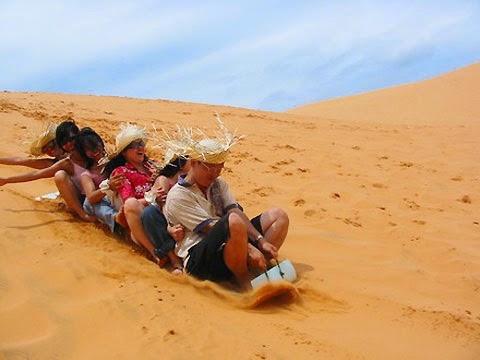 It takes a whole day to enjoy the scenery and activities but what if you're staying half day to see this sand dunes, don't be upset! There's still a lot of stuff you can do on this half day there is a lot of private companies that offer half day tours! So what does half day tour do? If you're into the package deals most tours starts by meeting you at your hotel and taking a wheel jeep to visit Mui Ne Beach, you will be amazed and be fulfilled by the beauty of the sand dunes. It is more fantastic time seeing sunrise slip on the sand! And you can try the sand sledding going down the sand mountain it is a good experience. Moreover, in middle of the white sand dune there is the Lotus lake- Lotus lake is famous flowers in Vietnam, but tourist will have a chance the yellow sand that can see all scenery of Mui Ne. Then the next destination the most travel tours go to is the Fairy stream, this place is a hidden gem with its beauty. It is called fairy stream because it resembles a mini version of the Grand Canyon in place the pitted rock formations off to the sides of the streams also seems like a good hiding spots for fairies. Are you into fresh fish? The tour will stop you at the Fishing Village for you to overlook the Muine Bay with the most amazing view of boats and sunsets. It is so nice to walk around in the sand dunes during sunset when it's not hot and it looks so romantic how it looks.
Mui ne tours will not be so expensive depends on the destination that you will be heading some packages comes with food and drinks. But most of the time tourist don't avail the food they want to try to food near the site. The best you can get a chance to drive a 4WD jeep in the sand dunes for experience and just strolling around by its beauty. But also remember always make sure what offer and deal you are closing with the travel tours because there is a lot of complaints, particularly about the sunset tours that cut short with the sun high in the sky. For anyone not interested in staying in Mui Ne for an extended period of time and desire to get in and get out quickly you have to follow a compressed itinerary to give time for each spots. Just enjoy the beauty of nature of its finest for you will able to feel that you are enjoying your life to the fullest! Have a dusty get-away!
Viet Fun Travel company is your complete guide for exploring Vietnam. We offer services, accomodations, transportations for all tourists. Check out our for our tour packages, promotional tours at a very reasonable price. When you avail our services, you will be guided to every tourist spots, exotic locations and historical places with our friendly tour guide. We will also help you find the place to stay while you are on your holiday. From your arrival to your hotel, we have selections of transportation that will suit your budget . All you have to do is to contact us and book for our services and we will make sure that no time will be wasted from the moment that you arrive.